TOWNHOUSE DEVELOPMENT WITH $75 (Kshs 11,122) - A MONTH AT DIASPORA UNIVERSITY TOWN (DUT).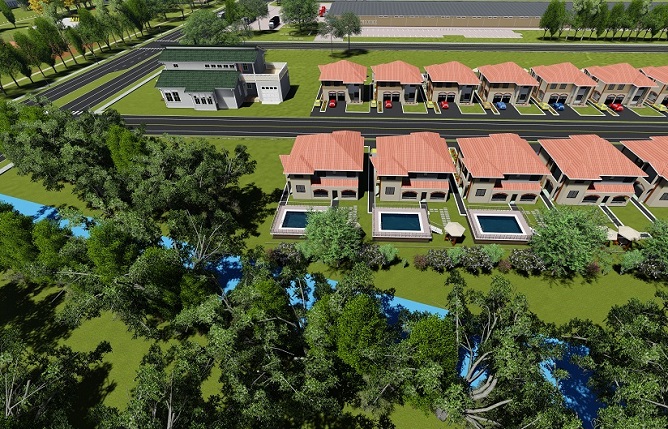 The DUT – Town House Developer system is set up to enable persons to participate in 10,000 Jobs Creation and 3,500 Townhouses development through the simple development plan as explained below.
The System is established based on the fact that Diaspora Kenyans after getting Jobs Created Abroad were able to live in good houses they rent or own through mortgages. These houses were developed as Jobs were created.
TOWNHOUSE DEVELOPMENT CAPITAL
Townhouse Developer Capital…500,000 (

$3,365

)

*

House Construction Cost……..6,500,000 ($43,750)
Total Development Capital.. .7,000,000 ($47,110)
* Forex Exchange rate as of October 2023
$3,360 (KSHS 500,000) CAPITAL INPUT
60 months Loan offered by DUT Credit. Payment $75 (Kshs 11,122) x 60 months
$43,683 (KSHS 6.5 MILLION) HOUSE CONSTRUCTION COST
Arranged by Diaspora University Trust
DEVELOPER'S OPTIONS AFTER HOUSE COMPLETION
Get a Mortgage.
Sell House
GET MORTGAGE AT COMPLETION
The mortgage issued based on House Construction Cost (6.5 million) plus loan principal outstanding for Kshs 500,000 loan.
Example: If the house is completed in Month 15, the Developer will have put in 15 installments of $75 = $1,275 (Kshs 166,830). Kshs98,549 will pay principal and Kshs 68,281 interest. Kshs 401,451 will be the Principal Balance. On month 15 the Mortgage issued would be Kshs 6.5 million + 401,451 = Kshs 6,901,451.
Mortgage Repayment
Mortgage would be paid by the rental income from jobs created and the owner's money input. The monthly payment based on the years of mortgage given.
SELL HOUSE AT COMPLETION
The Developer can sell the house.
Example: At a sale price of Kshs 7.5 million during the month 15 completion, the sale amount would pay the Kshs 6,901,451 as per above example. The Developers would receive Kshs 598,949. The Developer return would be Kshs 598,949 - Kshs 166,830 (11,122 x 15 months) = Kshs 432,119.
BUYER OF HOUSE
Any of the persons who have taken up the over 10,000 jobs created at the town as follows:
The buyer would be issued a mortgage